Cross Cultural Collaborative, is a non-profit educational organisation that promotes cultural exchange and understanding.
Our programs emphasize multigenerational and multicultural collaborations encouraging participants to find rewards in different forms of art.
Aba House, as it's known in the small village of Nungua, helps the local children to develop their creativity by teaching how to use tools for expanding their imagination and craftsmanship. The organization also supports the children by providing them with school materials and other necessities. We bring volunteers and artists from different cultures together in a supportive environment where they can get to know each other through the language of art. At the core of our program is the belief that interaction between African and non-African cultures is mutually enriching.
If you are new to our programs, we suggest visiting these pages: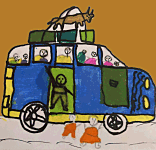 2023 Tour of
Northern Ghana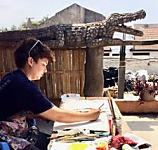 2023 Workshop
Artist Residency

Every Meal is a Story
Our new book inspired by Aba House visitors who ask for Talk True's recipes. The book is also a commentary on the culture of food in Ghana. » purchase

Hardships & Goodships in Ghana
Written by Aba, a collection of true stories that are a good cultural orientation to Ghana.
» purchase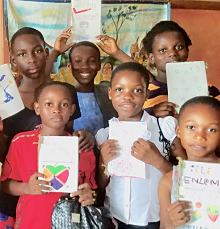 Support
Aba House Kids
Shop our store,
on AfricanCraft.com
100% of sales are donated to the educational needs of Aba's kids.