Cross Cultural Collaborative
Summer Newsletter, 2007
August/September chilling on the deck. Were we ever! Wrapped in blankets, windswept and on several occasions forced indoors by the rain. It's unusual for it to rain in Accra in September. Because our workshops are held outdoors, the wind and rain were not welcomed. For us it was just an inconvenience, but in the north it was a disaster. Houses washed away and people drowning. This helped put things in perspective for those of us in the south.

We still had to keep the candles ready for electrical outages, we had to send someone to another town to stand in line for 5 hours to get gas for the stove and we had to forgo mangos when the price got too high, but still, it was a good summer at Aba House.

Our main focus was on the papermaking and bookbinding with the neighborhood children. Angela Zubrowski came for 3 weeks to work with them on using indigenous plant materials. We are growing our own pandaras which makes fantastic paper.
Read Angela's story ...
Papermaking at Aba House.
We also had a return visit from Barbara Allen who worked with the kids before Angela arrived. It helps to have adult input, but now after two years the kids are pretty good at mixing, cutting, pounding, cooking and miraculously producing paper as a result.
Leslie and I were in charge of bookbinding. She worked with some of the children on Coptic books and I worked with mostly the younger children on a simpler binding.

School started on Sept. 11 for most of the kids, so the week before, we closed up shop, had a party and gave out school supplies. That's the whole point....the kids make the paper and books and we sell them and use the money to buy school supplies and pay school fees.
PLEASE CONSIDER BUYING OUR BOOKS AS A HOLDAY GIFT. They are in Aba's Shop at AfricanCraft.com

What else happened at Aba House this summer?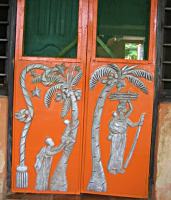 James created a unique front door.
Leslie taught Talk True how to make pizza: it's pretty good and the beans and ground nuts give it a distinctly African touch.

And we had some wonderful visitors. When people ask me what I like about our program, one of the things is always the interesting people who come to us. Read Kim Hall's story ... LEARNING TRADITIONAL GHANAIAN TEXTILES.

The most memorable moment was taking Mary McGladrey ( 83 yrs. old) to meet Mrs. Adipah (90 something). Mrs. Adipah is Krobo so her beads are very important to her. She carefully chose some to tie around Mary's wrist and talked about how things used to be in Ghana. Interestingly, she dwelt on the food. She could remember when everything was fresh and organic and not tasteless like it is now.
Hmmm, I still think that the pineapple is pretty good.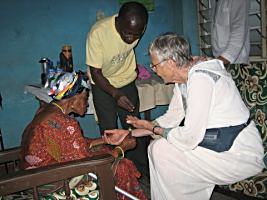 The library was very active. I think that next time we have to set library hours. The kids showed up at all hours. The deal is that you get a book and when you return it you can sign out another one. Word is spreading and children are coming from quite a distance. Some of them sit in the yard to read and then come back for another book. On the agenda for next time is to train one of the kids to be the librarian.
When is next time? We were planning to go back in January, but knowing when the competition is too much, we've decided to wait until the end of February. No one in their right mind would compete with the African Cup of Nations. Yes, Ghana is the host and it's a big deal for soccer fans...which includes all of the Aba House children and probably everyone in Ghana. The hype has already started. This summer there were a few mornings when our yard was absolutely empty...a very unusual occurrence. Silence. And then we would hear jubilant cheering and see kids running around with their fists pumping in the air. Then they would disappear into the house that has a TV set. Ghana beat Peru...Ghana beat Brazil in the Olympics.
Then the kids remembered us, and our yard was back to normal.

And, as always, we'll be in Ghana next summer.

August 2-15 AFRICAN TEXTILE WORKSHOP
SIGNUP DEADLINE APRIL 1, 2008

July 17-31 PROJECT EARTH - TO - ART
For teachers interested in using recycled materials in the classroom
more info at: http://afropoets.tripod.com/eta
SIGNUP DEADLINE FEB.22, 2008

We will also be accepting volunteers to work with the Aba House children, offering art and culture focused tours of Ghana, and independent residencies. Just let us know what you'd like to do.
We have a great location across the street from the ocean. Come rejuvenate your creative spirit.
- Aba