Cross Cultural Collaborative
Winter Newsletter, 2007
There must be really good vibes at Aba House because we continue to attract the most talented and dedicated volunteers... and of course, fascinating visitors.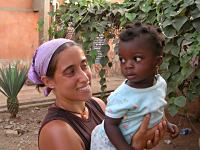 Dani Abrams, an ex-peace corps volunteer in Namibia, took a detour and is working with the children at Aba House until she returns to the States to attend Grad school. The children love her and she is all things to them including teacher, mother, counselor.... read one of her monthly letters and a progress report.

Dani's mother Jackie is a regular at Aba House and comes at least once a year to work with the children. This January Jackie and some friends took a tour to see the famous painted houses in Northern Ghana. Read about it on the Africa page of Jackie's web site.

Photos by Ann Schunior who went on the trip North: click here

New book coming out in June: Ghana, An African Portrait Revisited

Visit a wonderful site that is dedicated to African artisans and in the SHOPS go to Aba's Shop where you can order one of the books made by the Aba House children. Proceeds from sales go to pay school fees.
==> africancraft.com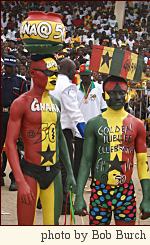 Ghana is celebrating her 50th birthday. Ghanaians know how to celebrate and we are inviting you to join us in Ghana.

Cross Cultural Collaborative is an educational non-profit encouraging interaction between people of all nationalities. Come to Ghana with us and we'll introduce you to Africans on a personal level.

You can:
STAY AT OUR GUEST HOUSE across the street from the ocean and interact with our Ghanaian neighbors- eat indigenous food on our deck-visit the fisherman or the fantasy coffin makers who are right down the street

VOLUNTEER TO WORK WITH THE ABA HOUSE CHILDREN - although we are concentrating on teaching paper making and bookbinding (we sell the books to support childrens school fees), we also need people to help with homework-teach English-take the kids on field trips.....

TAKE A TOUR: we can take you to sites of historical and cultural interest-we specialize in customizing your trip. Tell us what you want to see and we'll take you there.

TEACHERS: we have summer teacher workshops-meet people in the Ministry of Education-visit schools-work on curriculum-work with Ghanaian teachers

ARTISTS: We offer a special tour for artists to visit artisans in their homes and workplaces
Aug. 1-6 we are offering workshops in AFRICAN TEXTILE TECHNIQUES

Tell us what you'd like to do and we'll send details.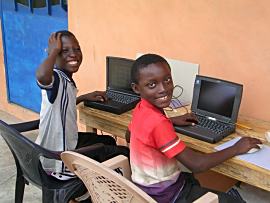 fun & learning on our newly donated laptops
- Aba