Cross Cultural Collaborative
Summer Newsletter, 2006
I think what excites people about Ghana is that it is all things to all people. It somehow adapts to everyones mood.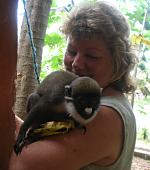 To me it was amusing that the adults and children seemed to switch roles. The kids were working so seriously perfecting their paper making, bookbindinding, English literacy skills and ways to get the obronis to buy them lunch and the adults were playing with the monkey, invading Makola for just one more piece of cloth and inviting The Annointed One (that's what the tailors kiosk says) to sew one more shirt. Well, not all of the adults. You know who you are!

From my perspective this summer was like a soap opera. Akosombo Dam which supplies electricity to Ghana and other countries was at its lowest water level, so there were rolling blackouts. 3 days electricity on-3 nights on or off-I just couldn't keep track. One of the views from our patio is Tema Harbor. A very large ship full of cocaine was intercepted and then some powerful juju made the whole load disappear.The policemen guarding the ship have no idea what happened.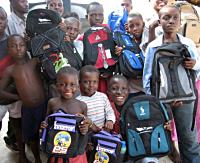 Meanwhile, back at Aba House we had a long and productive summer. Marta came back from Australia to continue the paper and books. Her friends gave a very generous donation which enabled us to build some long work tables and to buy book bags and fill them with school supplies. We took 3 of the older boys into Accra to help buy the supplies. Of course their favorite moment was the big plate of chicken and rice for lunch. George, who had never been to Accra, wasn't impressed. He said that it's too crowded, too dirty and too expensive....so we piled into the van and went back to Nungua.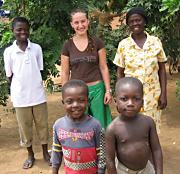 Our youngest visitor was Aviva, a teenager, who arm wrestled and beat most of the local boys. She also donated her baby sitting money to send 2 of the neighborhood children to kindergarten.

Aviva's mother came too and did a fantastic job of writing books with the children. How more culturally relevant can you get than to have the children write about people and places that they know.

As always, we had artists, teachers,tourists and even Jamie and Ricki who rented a room and decided to stick around and do some house repairs...I hope they'll come back some day!

And last, but not least, Jackie came back with several friends. They went on a tour, stayed at Aba House for textile workshops and some worked with the children. A wonderfully talented group (all featured in the book 500 Baskets). I thank them for adding spirit and generosity to Aba House.
Jackie and I will be going back in January to continue the work. We've had some laptop donations (we're looking for a few more) and have a volunteer who will stay at Aba House for 4 months to teach the children computer skills and to continue the English proficiency.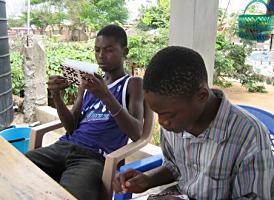 making books to sell for school supplies

And next summer will find us back on the patio waiting for the next soap opera installment.

If you want to join us as a volunteer, are interested in a tour or have any other idea about something you'd like to do in Ghana, you can reach me by email here.
- Aba
more from this summer ==> kids drumming (watch a video clip) and a farewell song!