Cross Cultural Collaborative
Summer Newsletter, 2005
I have been asked many times what I find so compelling about Ghana and our programs at Aba House. I must say that high on the list are the neighborhood children. They continue to astound me with their curiosity and talent.

This summer Carol Weller, a teacher trainee from Britain, worked with the children and directed a performance of HAMLET. I can guarantee that this was the first Shakesperean performance in our fishing village. Although a bit of overacting by Hamlet was in evidence, the performance was outstanding. Carol's story: "The day Hamlet came to Aba House"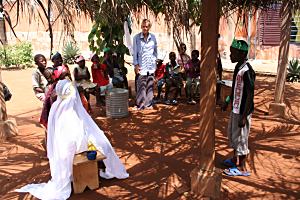 I was also so proud of Russell and George who are 14 and 13 yrs. old. They are two of our regulars and after learning mosaics from visiting American artists, have without adult supervision covered the Aba House walls with their creations. This summer they were commissioned by one of our neighbors to add a mosaic to her garden wall. They were very professional..showing up on time, working diligently and collecting their payment just in time to help pay their own school fees. George even bought himself a pair of shoes to go with the school uniform that was donated by two of the Aba House visitors.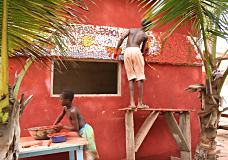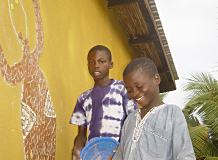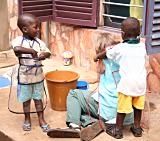 Even 3 year olds Gideon and Elliott show up every day and participate in our workshops. This summer when we were setting up a paper mill, they carried water, washed the couching clothes and because they couldn't reach the clothes line, handed the clothes to an adult for drying.

We depend completely on volunteers to run our workshops. This summer the main theme was "paper" and "bookbinding". Marta Herbertson, a paper artist from Australia and Shawn Sheehy, a paper artist and bookbinder from the USA spent the month of August experimenting with plants fibers and other indigenous materials and supplies. Although the time just flew by, they accomplished a lot and we have a sampling of paper and books to be continued next summer.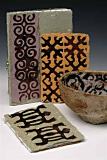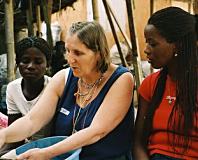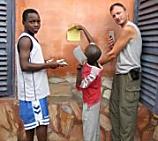 Jackie Abrams, a basketmaker and extraordinary teacher from the USA, was doing product development from the paper we produced. There was an intense interest in her paper basketmaking techniques. Jackie's story.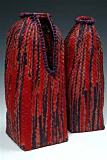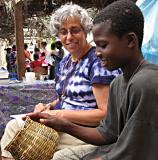 Many Aba House visitors sponsor a child's school fees. Although this is wonderful, Jackie and Aba want to start a tutoring program at Aba House. This would give more individual attention to English reading and writing. They study English in school, but the children have very little opportunity to practice it. Jackie is hoping to return for 3 months to not only teach basketmaking, but to also start an ESL class. Since both Aba and Jackie are art teachers by training, anyone who'd like to come help is welcomed. Even though our attention was focused on the papermaking and bookbinding, we had many other things happening this summer.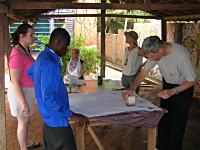 We started with a group of Presbyterians from the Washington, D.C. area. In Ghana to visit a sister church, they stayed at Aba House and each evening we had interesting cultural discussions. The group even tried batik.

Then the South African TV crew arrived. Our house manager Talk True became a TV personality and was filmed giving a cooking lesson. It took all afternoon to film what will probably be a 5 minute segment. Then we all got to eat the food.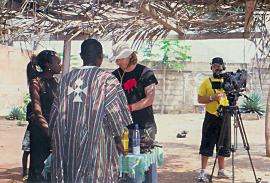 We had Margaret from Nigeria studying puppet making with Kobbi (Margaret's story). Meg from the USA studying African textiles and Amy from the USA making bead connections for her jewelry business. Even John, our web designer, came from the USA to see what we were up to. There were many people both Ghanaian and visitors coming and going all summer and on
August 27 we had a party to thank everyone who has helped Aba House and to celebrate our 5 year birthday. A professional drum and dance troupe as well as improvised drumming kept us going. The beer and good food helped too. A representative from the American Embassy in Accra presented Aba, Ben and Alice with framed certificates of thanks for contributing to cross cultural understanding and, as they say, a good time was had by all. And then the summer was over. Reluctant goodbyes and it suddenly became pretty quiet at Aba House. The visitors went home and the children started a new school year.

Our programs may slow down for awhile, but they never stop. Elina, a wonderful volunteer from Sweden, is in residence until January. She'll continue the children's workshops, run the gallery and receive new visitors. Soon, we'll be posting our 2006 summer workshop schedule. If there's something you'd like to teach or learn, please contact us at aba@culturalcollaborative.org

In March ABA TOURS and CROSS CULTURAL COLLABORATIVE, INC. are offering a 10 day tour of Ghana. Contact us if you're interested. There will also be batik - tie and dye - adinkra and other workshops at Aba House in March.

Medawase pa pa pa to everyone who made the summer of 2005 so wonderful!
- Aba