Support the Aba House kids
Buy a one of a kind gift made in Ghana
100% of sales will support the educational needs of Aba's kids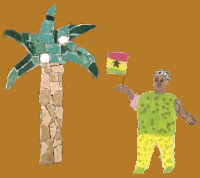 Cross Cultural Collaborative is located in a fishing village in Ghana where we work with the neighborhood children teaching them to be outrageously creative. The children have been taught not to beg, but to work for school supplies, tuition and related expenses. They make paper from sugar cane leaves and journals - boxes and cards from the paper.
If you'd like the item mailed as a gift, we'll enclose a gift card. What would you like the card to say? (shipping Continental US only).
Please fill out the form below and click the 'Next' button at the bottom of this page. Select the desired quantities for each item.
We accept payments by check only.